In-Ovation System - Your choice for a beautiful smile!

We happily offer our patients In-Ovation System braces.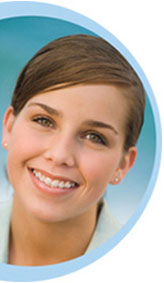 Now you can look your best and feel confident about your smile during your orthodontic treatment, as well as after. That's because we use In-Ovation braces, a new and technologically advanced system that can give you the radiant smile you have always wanted more quickly than traditional braces, and without the need for ugly, unsanitary, and uncomfortable ties or elastics. Best of all, there's never a need to have your braces tightened!
Using light, gentle forces, In-Ovation makes the path to a beautiful smile faster and more comfortable than you ever thought possible! In-Ovation does not just straighten teeth, its unique Interactive™ technology allows your doctor to gently achieve the precise results needed for optimum facial proportion and aesthetics.
In-Ovation System braces give patients a good reason to smile!
What makes In-Ovation unique?
In-Ovation braces utilize a patented clip that engages the wire in the braces. This creates a free-sliding effect which reduces friction to allow teeth to move freely. As a result, you have less discomfort and faster treatment than with traditional braces.

In-Ovation
With the In-Ovation System, teeth are free to move more quickly, easily, and comfortably.

Traditional Braces
Elastics and ties used in older braces put pressure and friction on teeth which slows treatment and causes discomfort.
Attractive Advantages of In-Ovation
Faster results
Shorter appointments
Fewer office visits
Greater comfort
Improved facial proportion and appearance
Faster Treatment Time
In-Ovation utilizes light forces to allow teeth to move freely and quickly. You can achieve amazing results faster — often, depending on your treatment needs, months sooner than with other braces.
Greater Comfort
Self-ligating system places light pressure on the teeth, leading to gentler movements. The small, smooth, and low-profile bracket design is comfortable, easy to keep clean, and resistant to staining.
Shorter, Less-frequent Visits
With In-Ovation's efficient system, fewer appointments are required to complete treatment. The system also reduces the need for time-consuming tightening procedures of changing elastics, which means your appointments can be shorter and less involved.